stop losing your customer inquiries in your inbox!
Simply and Easily Manage All Your Customer Inquiries from Inside Your WP Admin!
Inquiry Manager for WooCommerce is it the best inquiry plugin for your WooCommerce Store that helps you connect with your customers, while increasing sales and efficiency!
Stop losing customers through the cracks of uncertainty
We all know that a confused mind doesn't buy and your customers are no different.  Insert Inquiry Manager for WooCommerce.  With our simple and easy to use plugin you can safeguard your woo store from customers leaving by giving them a simple way to get in touch.  They can easily ask product or stock questions, get clarification on features, or even ask you about pricing, all with the click of a button.  Imagine how much more profitable your store can be when you are able to effortlessly answer questions and convert browsers to buyers! 
With Inquiry Manager for WooCommerce you can:
Connect with your customers all within your WP-Admin
See exactly what products your customers are inquiring about
Increase sales by allowing your customer to easily click and checkout straight from their inquiry
Kick "$/seat" to the curb, now your whole team can see your customer inquiries, history, and even add notes!
Get out of your inbox and stop chasing (or losing) conversations – everything is simple and easy right form your Website
With Inquiry Manager your store can have
More...
Ready to see how simple inquiries can be?
Start your subscription today
14 DAY MONEY BACK GUARANTEE. 

Take Your Woo Stores' Customer Service to the Next Level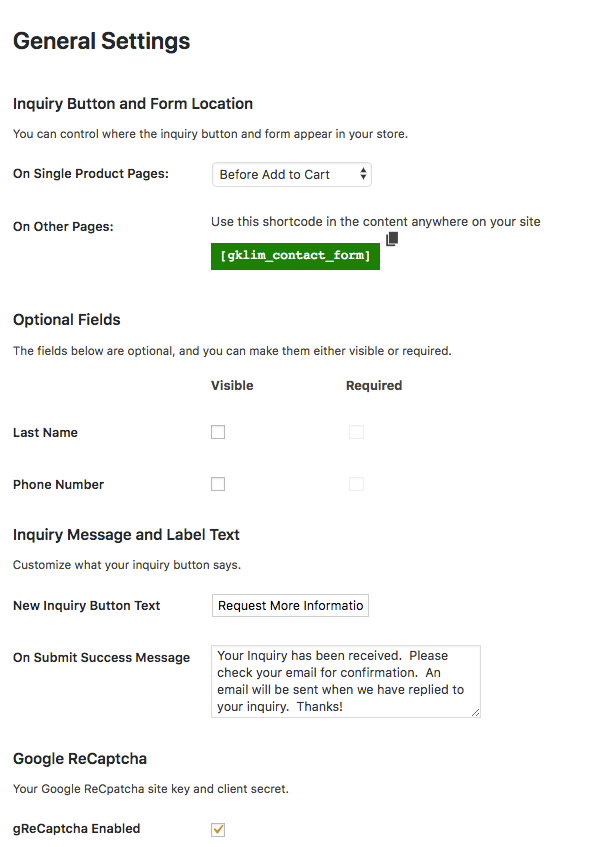 We know that technology can be overwhelming but connecting with your customer shouldn't have to be!
No coding necessary! Simply install your plugin, customize a few settings, and you are good to go and ready to answer those inquiries like a pro!
We were using another inquiry plugin that was ok but we quickly realized our customer inquiries were getting lost in the inbox.
Some were getting answered by multiple team members or some not at all!

We needed a solution that allowed the whole team to see the inquiry and if it had been responded to.

Inquiry Manager for WooCommerce allowed us to do that and more! I love how simple it is to use and that we manage all the inquiries directly from our WP-Admin. No more chasing inquiries around the world wide web.

We can easily see which inquiries are in need of a response and also add notes for our reference. Lastly, I have heard from several customers how easy it is for them to go from asking their question to checking out so I know that this plugin is increasing sales and worth every penny. Thank you for creating this great plugin!
Use for Product Pages & You Contact Forms
If you have ever wished your info requests submitted for your products and your contact form went to the same place, wish no more!
We designed this plugin to have a form short code you can put anywhere on your site in addition to product pages so you can access all your shop inquiries in one place.
Capture
More Sales
With Inquiry Manager Plugin for WooCommerce
Meet Matt and Emily.  They own a WooCommerce store and in the past have been chasing their tails and dropping balls with customer inquiries about their products.  
Inquiries would come in, but with all the other tasks of running their business, inquiries were getting lost in their inboxes and they felt like they were all over the place. 
Between the two of them, they couldn't tell which ones had been handled by the other so some got answered twice, and even worse, some just slipped through the cracks entirely! 
Sound familiar?  You are not alone! Luckily, they soon came across the WooCommerce Plugin, Inquiry Manager! 
Finally they had a solution that allowed their customers to get in touch about product or store questions easily and a way to manage all their shop inquiries in one central place! 
Now there was no more confusion, frustration, or dropped balls. 
They could see who responded and when and what needed to be followed up on. 
They could add notes and even see the exact page or product the inquiry was submitted from!
No more chasing inquiries around, no more wasting time, no more wondering.
Now they can manage their customers inquiries efficiently giving their customers a better experience, but also helping their bottom line in sales too! 
If you are struggling to keep track of your store inquiries like Matt and Emily, then it is time to see how WooCommerce Inquiry Manager can help your online shop today!
Finally WooCommerce Customer Inquiries

Made Simple
Take a look for yourself…